Pastor James and Catherine Redfearn
James Redfearn, Jr. received Jesus Christ as his Lord and Savior in the summer of 1969. On August 4, 1973, he married Catherine Mungo by whom God has blessed them with 37 years of marriage and four children
(
three sons & one daughte
r).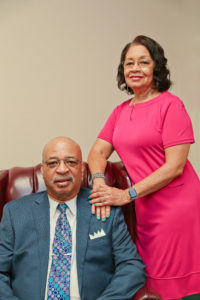 In December of 1973, God gave him a vision. In this vision he saw multitudes of people screaming in terror as they fell from a tall cliff into the flames of hell. Nearing the end of this vision, the Lord spoke and said, "If you don't tell them, they will be lost". He began to witness and share the Word of God wherever he went from that time. He has witnessed many surrender their lives to Jesus Christ. In 1975, he was baptized in the Holy Spirit which took his ministry to another level. God confirmed his Word with signs following.
Pastor James' ministry began as a teacher. God later called him into the pastoral ministry, which led to the founding of Word of Life Fellowship Church in Cheraw, SC on June 14, 1986. He has been privileged to minister in churches, seminars, and through radio and television broadcasts.
Mrs. Catherine is employed by Word of Life Fellowship Church as an Office Administrator. Reared in a Christian home, she was always taught to love God and had a desire to minister to ladies, even as a teenager. Upon becoming an adult, God gave her that opportunity. She counts it an honor to do so. Mrs. Catherine's greatest desire is to see many people saved, healed and set free from all bondages that will keep them from walking in the abundance of God's promises.